How many times have you found something on the web that you really want to read—just not right now?
So you print it out to read later. And, heck, maybe you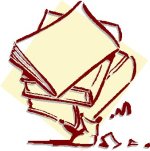 even do. But I'm guessing that your "To Be Read" file is at least twice as big as it needs to be.
If you want people to get information from your website, it just makes sense that it should be clear enough so that your visitor can just read it right there on the screen and right now.
And that means, short sentences.
Lots of white space.
Highlighted important words.
Bullets are good.
All of that is in support of people who just skim your page. Because that's what they do mostly. Even if they don't think they do. The web is wide and something else shiny will catch their attention if you don't grab it quick.
It's likely (or maybe just "possible") that people will read your first paragraph. So tell them what you want them to do straight up at the top. Or at least grab them with something interesting that makes them want to read the second paragraph.
If you actually read this whole bit, thank you.
But if you skipped to the end, I still think you saw the words that were bold: short sentences, white space, highlighted important words, bullets.
I wonder whether you noticed them because they were bold or because they were in a list.  Lists are good. Bullets are good. Complete sentences are not always necessary. And too many words are bad, bad, bad!
Want more info about this? Check out Jakob Nielsen's Alertbox on the topic here And check around his site, 'cause there is LOTS of useful info there.