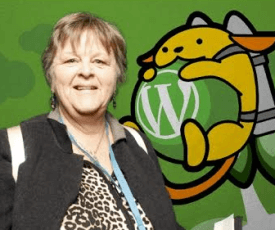 Kerch is pronounced "kersh"
It's the short form of my last name before I was married
McConlogue is pronounced mc con' lohg
I regularly tell my clients that your "About Me" page really isn't about you at all.
But it's about what you can do for your clients.  That service should be informed by your experience.
So.. what can I do for YOU?
Let's lay out the parts of the website project
(and how Kerch can help!)
1. Decide that you need a website and what the purpose is.
The process of putting together a first website or updating an existing one can be an overwhelming process.  There are so many parts to consider.  I could list them here, but that would just make it seem worse! My training and experience as an ADHD coach is a perfect  background  to help you sort out all those parts and pick the ones that need to happen first and then later. It doesn't all have to happen at once.
2. Gather and write the content.
Ask any web developer and you'll get pretty much the same answer. The hardest part of building a website?  Getting content from the client.  I've written and published several newsletters, some in print and some on line.
I won't write your story, but I do read what I work on. If something doesn't make sense, I'll ask. But, if you need it, I have colleagues who can interview you and get the right words down on paper.
The second part of the content dilemma is Search Engine Optimization (SEO). This has to be considered on every page of your site, not just the home page. The better your content is constructed in the beginning, the better off you are down the road.  But language changes and the right words today, might not be the right words in a year. SEO maintenance is an investment and we can do that.

3. Build the site.
Building a website is part technical and part design. I've written code by hand for the web since 1999 and found the elegance of WordPress in 2005.  I want there to be enough code to work quickly and smoothly, but not any more than is necessary to make your site do what you want. I'd rather take a basic WordPress theme that I know is regularly updated and secure and adapt it to look the way you want it to, then spend hours searching through the THOUSANDS of prewritten themes that are pretty close to what you want.
My philosophy of design is to be clean and clear in order to yield the best user experience. After all, that your visitors can find what they are looking for is critical for success of your site.  I spent 20 years, in the 80s and 90s, selling my cut paper art work (scherenschnitte) at craft shows.  I believe as said Dieter Rams:  "Good design is as little design as possible."
Finally:
4. Maintain the site with up-to-date software and backups to protect it from the baddies who WILL worm their way in.
Just because it's built doesn't mean you can quit worrying about it.  I think website maintenance is a lot like raising children (I have 3, grown, no ax murderers: SUCCESS!). You do your best to raise them well, but you never quit worrying about them, talking with them, wanting to protect them.
A website is not so different. You gotta keep the software up to date. Baddies will find their way in. WordPress is great at releasing security updates. But they have to be installed. You need regular backups so there is a fall back position if really bad things happen.  This is boring work. But it has to be done.  And I can promise you it's much easier to be on my schedule of maintenance than to remember for yourself to update and backup when you should!
It is not my goal to see how flashy (read:expensive) I can make you site.
I want to help you have a useful presence with a site you can grow with your business. I want you to be confident that when people look at your site they know they're at the right place for them and they can easily figure out what you want them to do when they are there:  Call? Buy? Sign up? Or just read?  Any answer is fine as long as you and your visitor know which it is.
I love speaking. Here are a few places I've done so lately:
WordCamp in Lancaster: (2020): Pattern Library for the NonDesigner
WordPress Meetup in Carlisle, PA (2019): Choosing a theme and Using a Child Theme
WordCamp Baltimore: (2018): Beginners Guide to WordPress (half day session)
WordCamp in Lancaster, Scranton, and Rhode Island (2015), GiveCamp Baltimore (2013): 10-ish Tips to Make WordPress Your Friend
ACO Conference (2013) Make me first on Google: Simple plain-English tips
to increase your search engine ranking
ACO Conference (2008): Bones of Business
ACO Conference Keynote Address (2007) Community: What the heck is it good for?
ICF Presentation (2007) What's the Big Idea? How ADHD Coaches hold the client's agenda when it keeps changing
ADDA Presentation (2006) Making Decisions: It doesn't have to be so hard
Other Associations
Education