This story has nothing to do with websites or website design.
It's family tradition that I can't really identify as anything more than a mystery. But I think it's a good story and one that should be shared so that maybe, just maybe, the right person might know how much we are tickled by it.
2021 Update
Straight no Chaser: Christmas Cheers
What fun! We continue to be baffled and blissful!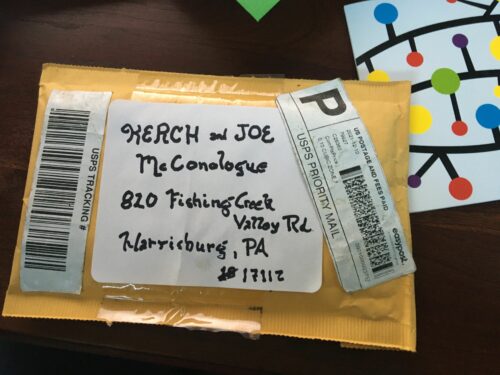 2020 Update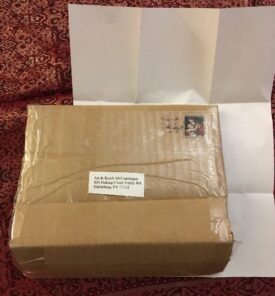 This year it came in a corrugated cardboard folder on a memory card. I love the ingenuity of all this!
A Holly Dolly Christmas!
Thank you, truly Secret Santa!
2019 Update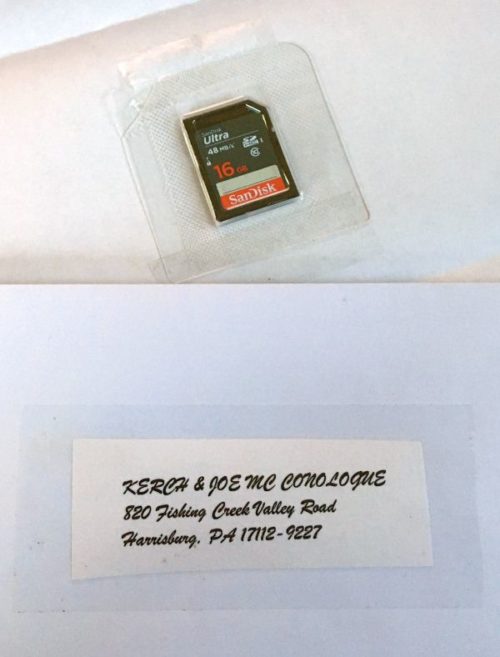 Our annual Christmas album arrived yesterday in a plain envelope with a plain stamp. (Read the story below for the full details). It came first as a quadraphonic album, then CDs, then flash drives.. and now a memory card!
We still don't know where or from whom it comes, but it sure is a great tradition!
2019 makes 43 Christmas albums in our mystery collection!
Read the corollary and our story below.
But first: this corollary to our story:
Ed Clinch of Peoria, Illinois had a decorated coconut mysteriously delivered to his house every Christmas from 1948-1996.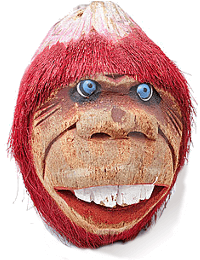 If your math is a bit rusty, that's 48 years! It came by donkey, by the mayor—twice, by ambulance on a stretcher and by parachute, to name a few scenarios.
The last one was delivered to his grave. He died at 82. He never knew who was behind it. (Don't believe me? Check it out. Search Ed Clinch Christmas Coconut)
At the our house, for the 36th time in as many years, we found Christmas music mysteriously left for us on our porch on Christmas eve. That's 36 Christmas albums… probably a better collection of Christmas music than most brick and mortar record stores.
Here's our story:
We moved into our first house December 22, 1975. We were young. We had a big empty house. We got the biggest tree we could find to help fill that vast empty living room. That year we knew where, and from whom, all our gifts came from.
But the next year, on our front porch wrapped in a Korvette's shopping bag—a long-gone local department/discount store with an exceptionally fine record section—we found a brand new copy of Handel's Messiah by the Mormon Tabernacle Choir recorded in quadraphonic sound!
We had a pretty good stereo system. We were, after all, newly out of college where stereos were a particularly important marker of something or other. In each place we lived, by then apartments or dorm rooms, the stereo was the first thing to be unpacked and the last thing to be packed. Music should be available at all times and in all places.
But we did not have quadraphonic sound.
We did not know where the record came from. I knew it couldn't have been Joe because quadraphonic records were expensive, and as newly-weds, why spend money on a record we couldn't fully appreciate?
The next year, the record appeared again.
When we moved to Mississippi, the record came wrapped in brown paper, postmarked Baltimore. But no other markings.
There was a CD before we had a CD player. Then there was music ripped on a CD or a memory stick.
Over the years there have been classical recordings, contemporary recordings, country music, traditional music, choirs and single performers. Annapolis Brass to Maryland Consortium to the TransSiberian Orchestra and everything in between. This year it was a bizarre mix of songs including Dominic the Donkey and White Christmas by Iggy Pop!
Generally we find it on the front porch, but it's been on the back porch and it's been tossed under a bush. Sometimes there's a knock on the door—a rather tentative one—so nobody thinks to rush to see who's there. But mostly there is no signal.
This year, my husband spied a young African American kid walking up the street, paying no body any mind—certainly not out of place on our street.
We have some suspicions.
The exCIA agent neighbor? The father of a kid who lived on my block growing up and who now also lived in Baltimore? (both now sadly dead and missed) Somebody from my job at Bethlehem Steel? A friend of Joe's from school? Or work?
Each year we review the possible benefactors. We just don't know.
It is a wonderful family tradition. We talk about it often in hopes that whoever is doing this knows how much we enjoy the game and the prize! And maybe someday it will be nice to know who's doing it. But not today.

And thank you!