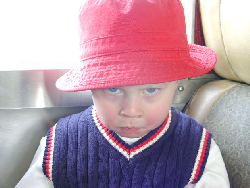 I have been following a conversation about hate mail: what to do with it, how to mentally process it and how to get over it.
When I started making and selling art work—way back in the freakin' 70s! (Yes, I am that old), at my very first show, I heard a little girl who was standing in my booth with her mother say, "Oh, Mommy, let's go look at something pretty!"
Another favorite comment was from a man who sort of shouted over his shoulder as he passed by, "They teach guys in prison to do that, you know!"
A thick skin is required to be in any business, especially one where you do the creating yourself.
None of this is exactly hate mail. But it is, at least, disrespectful. If the comments you get are like those, you laugh them off. Any other response and you look like a dolt.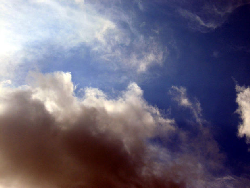 If you're looking at a cloudless blue sky and somebody says you're a jerk for not seeing that it is, in fact, black as night, again: Laugh it off.
You might even think, "Good, I'm making some waves. People are noticing me. I'm different. And for my peeps, I'm right."
But if you're looking east to a beautiful cloudless sky and the other guy is looking west at an approaching severe storm, laughing it off is not only counterproductive but also really does make you look like jerk.
So here's what I do when somebody sends sends me an email and says,
Your website sucks!
I can't find anything that should be there.
Get past the vitriol. Find the important message in that note.
Don't laugh that off and figure they are blind or stupid.
Skip over the ugly and get some details.
Maybe your site looks great in Firefox but in Chrome there are lots of extra characters. I've seen malware actually show up on sites in Chrome when in Firefox and IE they look perfect. (You do test your site on multiple browsers, right? At least: Firefox, Chrome, Safari, IE—new and older versions—and Opera, right?)
An organizer friend of mine says, if you can't find your caulking gun, you don't own one. No matter if you really already have 4!
If a visitor can't FIND directions to your business, then they aren't there—no matter if they really are included but buried way down below the form on your contact page.
If people complain about your colors, check them out on different monitors. You might be surprised about the differences.
Look, I am NOT saying that you should bend in the wind with every complaint you hear. You cannot make everyone happy. And, in fact, maybe pissing some people off is exactly what you have to do to get your point across or to narrow the field of ALL possible customers to just the ones you want to work with.
But look at the basic complaint offered. Try to see if there is ANY validity to it. If a thank you is in order, send one. But it's not always a good idea to engage your enemies.
How do you deal with "fightin' words" from your public? Have you found your tack to be working? Please share!