It might just be me, but I'm getting really tired of looking at websites with pictures of people that I just know are models. They scream "FAKE" to me.
I'm also tired of  pictures of people that look like they lined up at a photography studio in the mall and got standard head shots.
Business is about the relationship. It's hard enough to build one when you're sitting across a table—face to face—with the client. But when you're miles away and maybe you've never met, a good photograph is a really important.
Many people do judge a book by the cover.
Your photo on a website or a book jacket is an opportunity for your client to identify with you or imagine what you might be like in person. On the most basic level, it is an opportunity to know that you are a specific human with only one head and no third eye.
Your portrait begins to make a connection with people you may never see. It conveys a certain look behind your eyes and tells what is important to you.
But a good portrait is more than just a photograph—a dispassionate representation of a face. Your portrait begins to make the connection with people you may never see. It conveys a certain look behind your eyes and tells what is important to you.
When you prepare for a portrait session, spend some time thinking about your ideal client. If you had to dress up to meet that person, what would you wear? What would you say—if you couldn't talk to him? Your portrait must tell that story.
Also think about the rapport you'll need with the person on the other side of the camera. S/He won't be nervous. Try not to be self conscious.
If the photographer is really good, you'll be at ease and probably know the best shot when he takes it. But if he's not so experienced, you'll have to work at presenting the face you want to use.
What is your look?
People are generally most comfortable in groups of people who look like/feel like themselves. So match your photo to the clients you want to attract.
It will be your face with which people will connect, so be careful of a full body photo. But you might want something else in the photo with you.
If your dog is really important to you, why not have him in the picture with you? Check out these photos of people who work for Specialties in Wool . They are all real people and their photos show that clearly! The pictures help buyers connect with the people who are making their custom knitted Christmas stockings.
Pretend these clip art photos are real life coaches
How does your image measure up within the rest of the people in your industry? That's what you're going for here.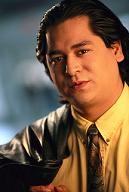 This is a standard photo of a man who could be a coach. Clearly, both he and the photograph are professional. He seems friendly but you can't tell much more.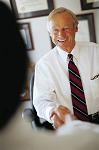 Here's a guy who might also be a coach to professionals. But I feel like I know more about him. From the frames in the background, I think he's got some kind of training. And it looks like he's easily talking to someone sitting across from him. He's comfortable.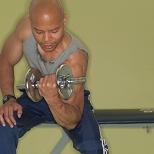 Is there any question that this guy works with people who are trying to be fit?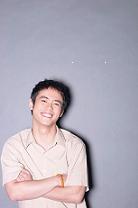 Or that this guy is hip and doesn't believe he is the center of the universe?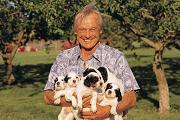 What says "fun" better than puppies?
This guy clearly likes to have fun. I want to work with someone who's having fun. But then that's my value and maybe not yours.
A couple of final tips on the process:
If a friend is shooting your pictures, take many more than you need so you're sure to find one you like.
While a plain background is considered norm, if you love to garden, maybe that's a better place to do the work.
If you use a professional photographer, have a discussion about copyrights before he begins work. Yes, it is your face, but he made the art. So get him to sign over to you the copyrights to the image. Or if you choose to let him retain the rights, negotiate the fee structure for future use—both yours AND his.
When choosing the final photo to use on your website, check it out on your monitor at about 150 pixels wide. Monitors can't really render much above about 72dpi, so there's no point in saving the photo at 300dpi or greater. Print is a different story.
This article was originally published in Circle, the newsletter of the ADHD Coaches Organization in April 2006.