And I know you hate "Coming Soon," too!
How do I know?
Here's a story: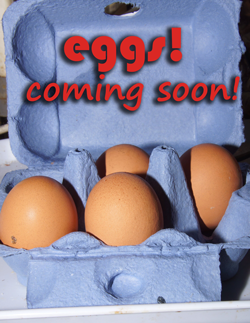 Let's say you want to bake a cake and you find you are out of eggs.
You go to the grocery store to buy some and find a sign that says "Eggs: coming soon!"
You look around the store manager to ask, "What does this mean 'coming soon'?"
He says, "Well, they're on a truck.. that's coming soon. We don't know exactly when. But ..soon. So you should check back again … soon."
Ridiculous, right?
How many times will you go back to that store? (It would make me really angry and I'd vow to never shop there again.)
Search engines are designed to help searchers find the best content relative to the search terms.
So when their magic robots scan your content, they can pretty easily tell if it says "coming soon" or "under construction."
Here is a sad example I recently found on an established website with a new front page:
A new website is coming soon…
in the meantime, this site is temporarily unavailable.
We apologize for any inconvenience.

However, the MEMBERS AREA can still be accessed during
construction and testing of the new site…
CLICK HERE to go there now.
That's just 41 words and pretty much none of it yields any indication of authority on any subject.
That is particularly sad because when searching for an obvious specific keyword, the site had been number one in Google for MANY years.
I can't say that their ship is sinking fast. But it sure is pissing off people who want to find information that should be obvious there. It should also be angering members who rely on a directory to find business.
Google expects at least 300 words on a page to even consider that there is relevant information available there.
Everything on the internet can change pretty easily. So how about instead of "under construction," you scrape together 300 words about your business or site.
A sentence or two including:
The name of your company and contact information
Your own name, a picture with appropriate "alt tags"
What your company does and who it serves
If Google finds your "coming soon" banner during its indexing more than a couple of times, your traffic will suffer. And it may be very hard to get that ranking back.