7 Questions to Ask When Interviewing a
New Webmaster/Developer/Designer/WebGuy
You're seconds away from getting it.
And you know what to do…
look for the confirmation message in your mail box and click the link.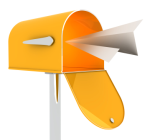 Same as you, I only want the mail I want.
Once you click the confirmation link, you'll be sent to the download page.
I promise not to send you a lot of crap. And I promise I won't share your info with anybody else, ever. Period.
PS:  If you don't find the message in your inbox within about 5 minutes, please check your spam folder or perhaps a bulk mail folder. Sometimes the those guys get a little aggressive.
Thanks,


Got questions? Contact me